Hey guys!I decided to make a list of some must watch action anime.I didn't include any of the really popular series like Gintama, Dragonball Z, Naruto etc because I wanted to put some more underrated series into the light.
1.Mirrai Nikki
Would you kill other individuals for the chance of becoming a God?
2.Soul Eater
Moe kids fighting demons 'n stuff.
3.Ao No Exorcist
Fighting against demons while you are the son of Satan . Pretty ironical isn`t it?
4.Tengen Toppa Gurren Lagann
Epic mecha battles, galaxy level , literally, people throw around galaxies as shurikens against eachother .
5.Durarara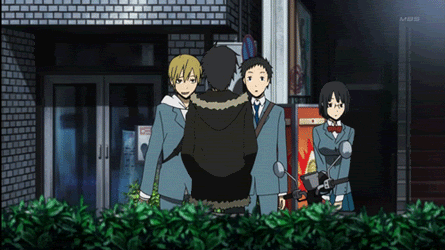 You don't wake up everyday to people throwing fridges at you.
6.Highschool of the Death
Fighting against zombies while being surrounded by beautiful girls . I wish my end of the world be like this. (Flash's input: "+")
7.Kill La Kill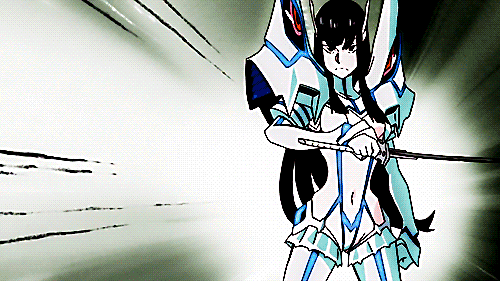 A war started by some friggin living clothes…Gainax continues to surprise even by anime standards.
8.One Punch Man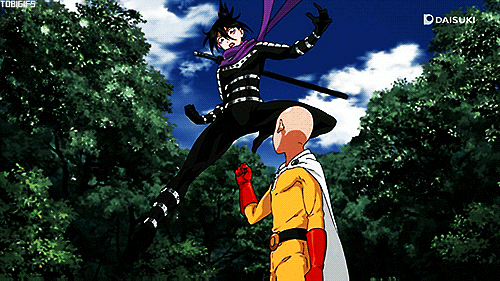 One shot killing everyone is lots of fun, or is it really?
9.Akame Ga Kill
That epic show who kills everyone from the cast, even though it doesn't get the execution always right.
10.Neon Genesis Evangelion
Shinji get into the fucking Tenshi.
11.Darker than Black: Kuro no Keiyakusha
Psychopath with a mask has superpowers and is really cynical, what more can you ask for?
12.Fate/Zero Series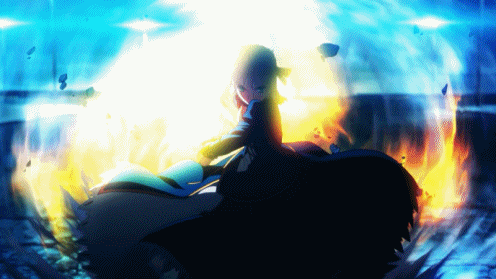 The anime series with a budget that could end world hunger, and it shows.
13.Kiseijuu: Sei no Kakuritsu
I'd sacrifice my right hand for such an awesome companion like Migi.
14.Log Horizon
Being stuck inside a game might be overused but this anime brings something that those other anime don`t : tactics.
15.Zero No Tsukaima
Being abused by a tsundere in a medieval setting…take what you will
16.Black Lagoon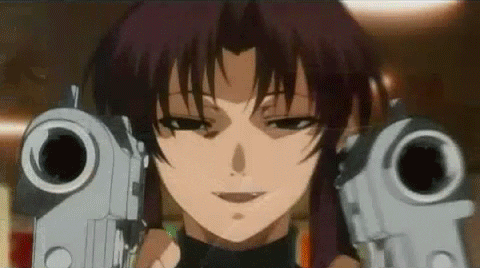 Typical action movie in anime form, with all the perks that come with being an anime.
17.Btoom!
"omg he will finally become a badass" is the reaction this anime makes you have only to then dissappoint you by making the main character a pussy.
18.Toaru Majutsu no Index
The Catholic church tries again to conquer the entire world…with the main action taking part in Japan.
19.Claymore
Watch this instead of the new Berserk anime.
20.Hellsing Ultimate
A prime example of making a powerful anime character still badass and not seem totally overpowered compared to everyone else.
21.Danmachi
If you want to become a hero you must have someone to protect, quite low requirements, but oh well…
22.Magi – Labyrinth of magic
You can change the flow of destiny, but does destiny really exist?
23.Nanatsu No Taizai
I wish second season would be released sooner.
24.Trigun
Just stop reading this and watch Trigun, I beg you.
25.Danganronpa: Kibou no Gakuen to Zetsubou no Koukousei The Animation
In a world full of despair can you still have hope inside your heart?Nice plot twist, too.
26.Ansatsu Kyoshitsu
You must kill one of the best teachers you had.Why doesn't Koro-Sensei exist in real life?I wish he was my teacher instead of those old farts at my university
27.Full Metal Panic
Mecha battles and a main character that struggles to fit in.
28.Aldnoah Zero
Code Geass wannabee, it just falls short of what it intends to do.As long as you turn your brain off while watching it's lots of fun.
29.Blood Lad
An otaku vampire, too bad it's so short.
30.Gate – Thus the JDSF fought there
Japan vs Middle Age with elves and demigods.
31.Boku No hero Academia
Some people say it will be the next big thing…I dunno about that, but it definitely has potential.
32.Beelzebub
Over-the-top anime with a cool concept that was destroyed by the animation studio, still worth a watch tho.
33.Air Gear
An action anime on roller skates, Japan never dissappoints.
34.Gangsta
Epic fights between drug cartels.Gangsters, dog tags, and more.Unfortunately the anime studio that made this anime went bankrupt … rest in pieces I guess.
35.C: The Money of Soul and Possibility Control
Money can control everything and everyone … just reminding you stuff.
36.Nurarihyon no mago
The anime where you would rather watch the master do stuff than the apprentice.
37.Medaka Box
A pretty underrated anime, it has a main character with big boobs so it gets a pass in my book (by Flash this one)
38. Jojo Bizarre Adventure
ORA!ORA!ORA!ORA!ORA!ORA!ORA!ORA!ORA!ORA!ORA!ORA!ORA!ORA!ORA!ORA!ORA!ORA!ORA!ORA!ORA!ORA!ORA!ORA!ORA!ORA!ORA!
39.Sousei No Omnyouji
Wiping out monsters before breakfast could be fun.
40.Hakuouki
Would you sacrifice your humanity for those you love?What is humanity really?Edgy or not, these are two cool question that arises from this anime.
I know that there are many anime that I missed, tell me what those are in the comments below!